CM Shri Y s Jagan will deposit the fee reimbursement money for the first quarter of the 2020-21 academic year in the accounts of the mothers of the students. 10,88,439 students to benefit from Rs. 671.45 crores deposited.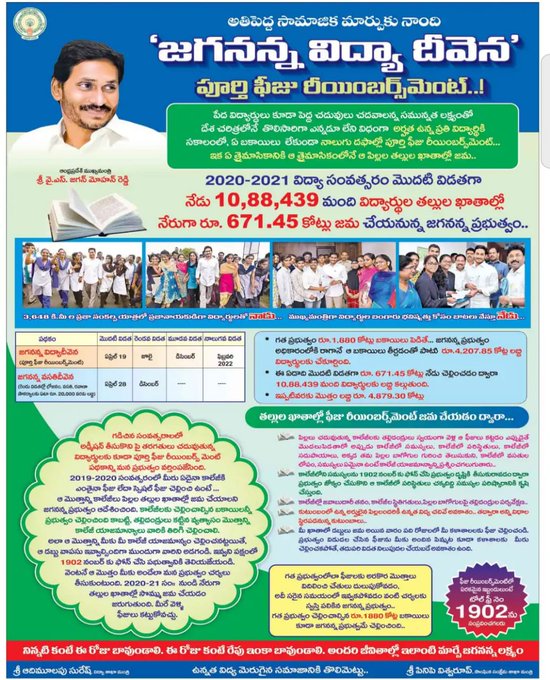 Reading is the real asset we give to children. As we read, our appearance changes. The government is the companion at every step of the children. In 2018-19, our government paid Rs 1,800 crore in arrears. Full Reimbursement for 2019-20 - CM YS Jagan
పిల్లలకు మనం ఇచ్చే నిజమైన ఆస్తి చదువే. చదువుతోనే మన రూపురేఖలు మారుతాయి. పిల్లల ప్రతి అడుగులో ప్రభుత్వం తోడుగా ఉంది. 2018-19లో బకాయిలు రూ.1800 కోట్లను మన ప్రభుత్వమే చెల్లించింది. 2019-20 ఏడాదికి పూర్తి రీయింబర్స్‌మెంట్‌ను చెల్లించాం- సీఎం వైయస్ జగన్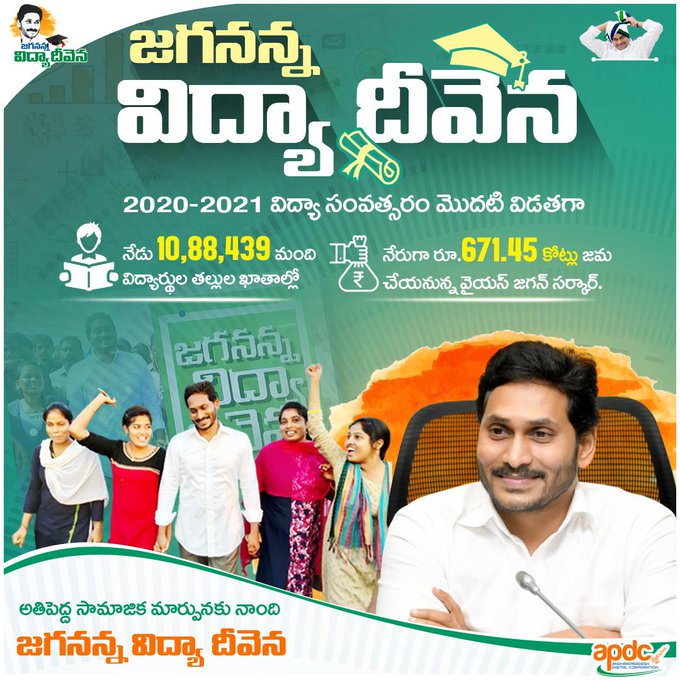 The first installment of 2020–21 fee reimbursement under the Jagananna Vidya Deevena scheme was credited to the accounts of the mothers of eligible students by pressing the button on the computer. Release of Fee Reimbursement Fund of Rs.671.45 crore for 10,88,439 students under the first tranche.
Jagananna Vidya Deevena పథకం కింద 2020–21 ఫీజు రీయింబర్స్‌మెంట్‌ మొదటి విడత నగదును కంప్యూటర్‌ బటన్‌ నొక్కి అర్హులైన విద్యార్థుల తల్లుల ఖాతాల్లో జమ చేసిన సీఎం వైయస్ జగన్. మొదటి విడత కింద 10,88,439 మంది విద్యార్థులకు సంబంధించిన రూ.671.45 కోట్ల ఫీజు రీయింబర్స్‌మెంట్‌ నిధులు విడుదల.
CM Shri Vyas Jagan launching 'Jagannanna Vidyadivena' scheme for the academic year 2020-21. Fee Reimbursement Money for the first quarter is credited to the accounts of the students' mothers.
2020-21 విద్యాసంవత్సరం 'జగనన్న విద్యాదీవెన' పథకాన్ని ప్రారంభిస్తున్న సీఎం శ్రీ వైయస్ జగన్. తొలి త్రైమాసికానికి సంబంధించిన ఫీజు రీయింబర్స్ మెంట్ డబ్బులు విద్యార్థుల తల్లుల ఖాతాల్లో జమ.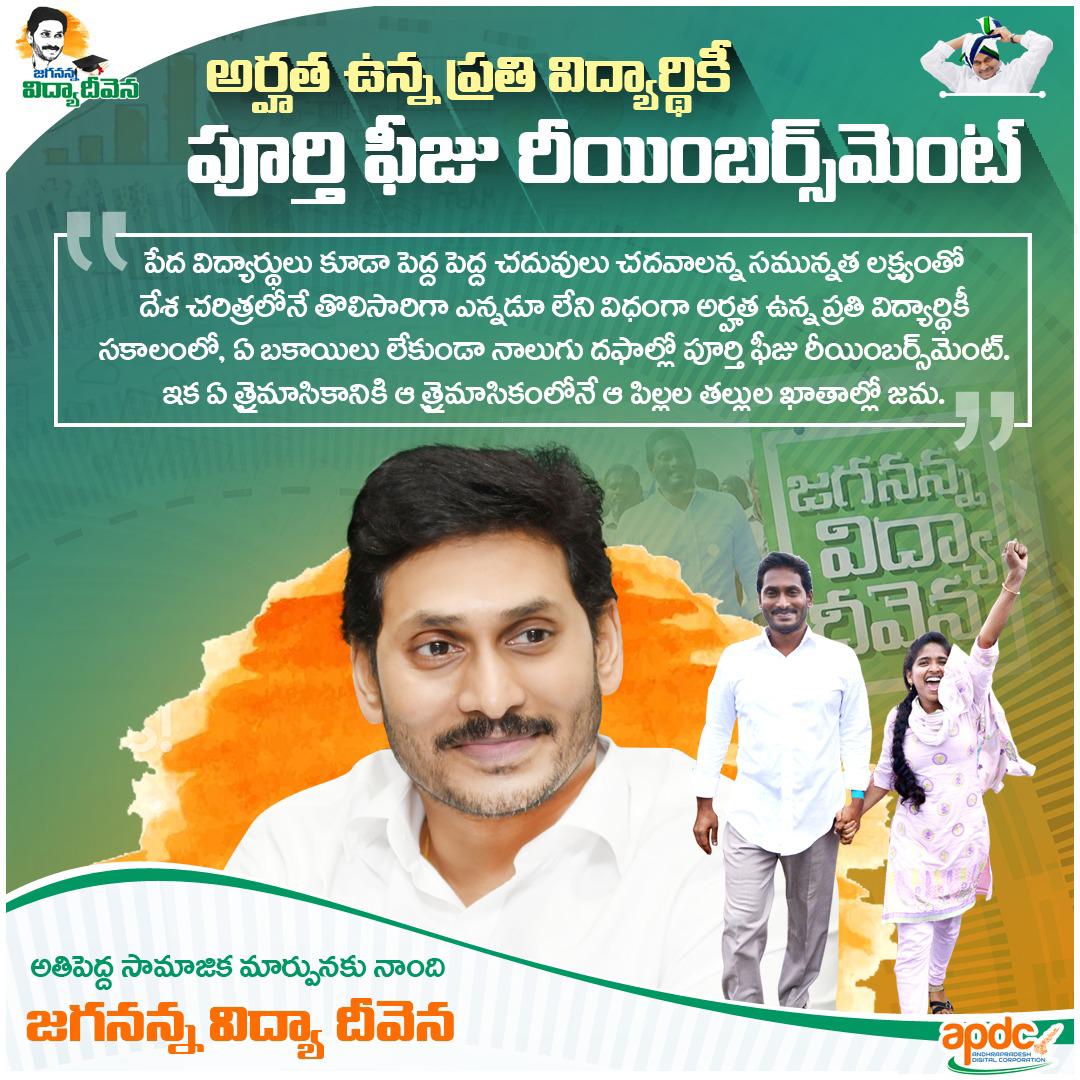 రం 'జగనన్న విద్యాదీవెన' పథకాన్ని ప్రారంభిస్తున్న సీఎం శ్రీ వైయస్ జగన్. తొలి త్రైమాసికానికి సంబంధించిన ఫీజు రీయింబర్స్ మెంట్ డబ్బులు విద్యార్థుల తల్లుల ఖాతాల్లో జమ.
The fee reimbursement arrears set by the previous government were Rs. YS Jagan Sarkar paid Rs 1774.60 crore.